Kane Brown recently released his own line of breakfast cereal, Kane Krunch. The singer announced the news on social media saying, "Does anyone else love cereal as much as I do?! Kane Krunch available now."
According to a press release, Kane Krunch has a cocoa rice profile and is available for purchase at http://KaneKrunch.com or in select Wegmans.
"Getting to work with the team to create my own cereal is one of the coolest things I've ever gotten to do. You can ask my family, but we truly are a big cereal household, and I'm excited for my fans to be able to try it and get to share breakfast with me, too," Brown said.
A portion of the proceeds from the sale of cereal will benefit Brown's charitable activities, including supporting the United States armed forces, youth and affordable housing initiatives.
I spotted it at Wegman's and grabbed a box.  I'm a BIG cereal fan.  I love having a bowl of my own special mixes in the morning…my favorite is a combo of Honey Nut Cheerios and Honey Bunches of Oats.  At night, I'll grab a box of one of my childhood favorites for dessert like Cookie Crisp or Cap N Crunch. 
I wasn't sure what to expect from Kane Krunch but as soon as I poured the cereal into my bowl, I recognized it.  It's just like Cocoa Krispies!  Kane Krunch is a partnership with PLB Sports & Entertainment and the creators of Flutie Flakes, not Kellogg's, but to me it tastes and smells just like the classic breakfast cereal.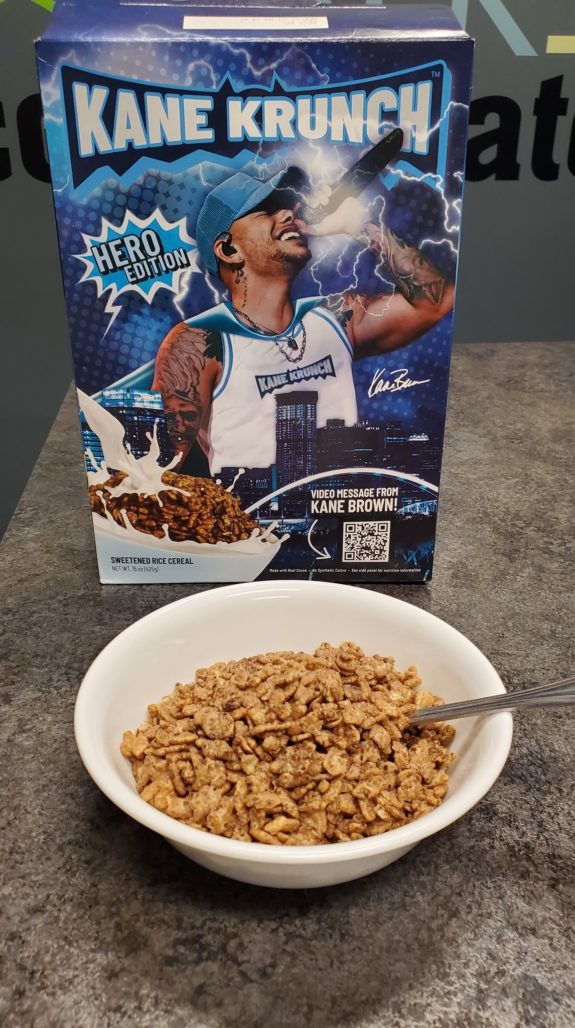 Would I buy it again?  Absolutely…it comes with a Word Search on the back and I'm all about reading the back of my cereal boxes while eating! (Remember doing this before we had cell phones?)  It's pretty sweet so I would probably save it for dessert, but either way I'll be enjoying more Kane Krunch while it's available.
More Posts for Show:
Stephanie Taylor