Bill Michaels

Bill is a Maryland native and has lived in Fredericksburg since 1985; that's also the same time he started working in radio at the University of Maryland. His broadcasting career includes stops at radio stations in Orange, VA, Fredericksburg, and Washington, D.C. Bill spent eight years in a helicopter reporting for several Washington, D.C. radio and television stations. He also made a stop at the Voice of America, as an international newscaster. Bill's career in radio news allowed his work to be heard coast-to-coast on nearly 1,000 radio stations along the Westwood One News Network. When he is not on the radio, you can find Bill on his bicycle exploring trails around Virginia, attending baseball games (Go Nats!), traveling and spending time with family.
Other on-air shifts: Saturdays 6 AM-10 AM
Astrology Sign: Pisces
Paul Hayden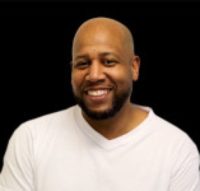 Born in Bronx, New York, Paul was inspired to be a DJ by his older brother, who was a Disco DJ in New York in the 70's. Paul moved to Virginia in 1978 and is a 1984 graduate of Spotsylvania High School. After graduation, he attended the Columbia School of Broadcasting in Northern Virginia. From 1997-1998, he was a high-school football ASA sideline reporter for WGRX and the lead play-by-play announcer for high school basketball for WGRQ. He became the Production Director for Telemedia Broadcasting in 1999. Paul began doing traffic reports for The Morning Show with Dave Adler on Super Hits 95.9 WGRQ and The More in the Morning Show on Thunder 104.5 WGRX in 2009. In addition to delivering traffic reports, Paul voices "The Sports Shorts" for The Morning Show with Dave Adler on Super Hits 95.9 and "The Morning Sports Report" for The Morning Drive on Thunder 104.5.
He and his wife Sharon have been married for over two decades. They have two children, Paul Jr. (PJ) and Briana, and three grandchildren, Jakhi, Amora and Amaya. In his spare time, Paul operates Hayden's Cleaning Service and Simply Stumps Stump Grinding.
Astrology Sign: Gemini
Lisa Lipton
Since childhood in the backwoods of Virginia, Lisa has been a storyteller. Elementary school report cards described her as "distracting to the class" and "has trouble working without disturbing others." She was told once by an exasperated teacher, "I hope you find a job that will pay you to talk!" Well, she did just that. Lisa has been in the radio industry since 2008. An appreciator of Southern cuisine and culture, you will often find her indulging in something homemade while quoting Dolly Parton and blessing someone's heart.
Astrology Sign: Virgo