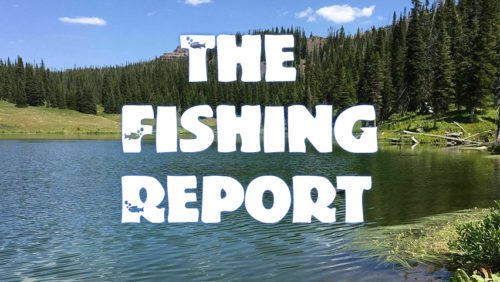 Cold Water Fishing ​
Water is below 50 and likely staying there until spring. Fishing is great this time of the year. Not many anglers and fish are still eating. Look for them on drops and ditches in out-of-the-current areas. More details for various conditions this month. http://nationalbass.com/report

Christmas is just around the corner. I've field tested and picked some great gifts! This year I found 4 companies wearing the pants for outdoors people. Check out these and more. http://nationalbass.com/news/fishing-for-holiday-gifts-2021

Finally, one jig that does it all! Weedless, outstanding bait keeper and a collar that can hold a skirt. http://nationalbass.com/news/gamakatsu-adds-round-26-weedless-jig-hooks

When looking for a high end bait casting reel, take a look at the Tatula. Casting a mile, this light weigh reel can also launch light weight baits. Perfect for micro cranks, small jigs and small topwaters. http://nationalbass.com/news/daiwa-new-limited-edition-tatula

Ditch the super glue, this new swim jig head can also double as a swimbait or a grub head. Great bait keeper and slim pill head comes through grass and deflects over cover. Great color patterns too. http://nationalbass.com/news/gamakatsu-a-perfect-pair-for-predators

Outfitting all anglers under most conditions, check out legendary fall lineup from SIMM's. http://nationalbass.com/news/simms-new-fall-2021-product-collection

DECEMBER 2021
Open the tacklebox and go fishing! You'll be able to use spinnerbaits, crankbaits, jerkbaits and even possibly some topwater (primarily during the warmest part and lower tide of the day!). Bridges in DC are good for smallmouth, largemouth and stripers using pilings as current breaks and in the dead zone waiting for prey. Depth and how bass are using cover are more important now as water drops to 45 degrees and below. Slow down and keep baits into these zones. The Spoils, Smoot Bay (National Harbor), Fox Ferry, Hogg Island, Belle Haven, Oxen Cove, Blue Plains are the typical hangouts in the northern end of the Potomac River. Also check out the warm water discharge at Possum Point. Colder water, fish slower and generally deeper. Some fish are shallow and easier to catch just about every day especially in stable weather. Several techniques produce under most conditions. Most are slow presentations!

Start with main river points and work your way north ambushing them at creek points of shallow creeks like Piscataway and Broad. Into the deeper creeks, follow them in the ditches and channels. In the Wilson Bridge area, follow the excavation ditches rimming the Spoils and Smoots (National Harbor). Fish closer to drops near water 10 feet deep when temperatures get down to 45, and near 4-6 foot drops when water is 50 or above. Look for deep water close by and sharp drops in those areas to find wintering bass. In Blue Plains, expect more active fish. When water gets below 45, cast and work 1/2-ounce Silver Buddy's down drops on the bottom with short "burps" on 1o-pound test Gamma Edge Fluorocarbon on a medium action casting rod. I prefer casting gear.

For plastics fishing, downsize to 8 or even 6-pound test Edge to feel more bites when water gets colder and fish aren't aggressive. They'll feel the drag of "bigger lines" and let go, before you feel them. Also, you're fishing deeper and further from the boat than in summer. Thinner lines get to the bottom and stay in wind and current. You'll feel bites better and have less drag in the water for hooksets. Downsized baits like Mud Puppy 3-inch avocado SR grub on 1/4 ounce round jig heads made with Mustad hooks worked slowly down drops will produce. A dab of PRO's Soft Bait Glue keeps the Stingray on. A good soaking in spray attractant keeps fish holding on longer with all soft plastics! TIP: keep the bag in your pocket to keep the Stingrays warm…they go on the hook easier!

Drag 4-inch tubes with tube heads, gliding down drops. Green pumpkin tubes are the best place to start. Other colors: Blue Craw, Green Pumpkin Copper. Try 4 inch grubs with the tail rigged UP on a 1/4-ounce round jig head.

Use drop shot once fish are found. A 3/16-ounce Water Gremlin Bullshot weight is perfect in current on 8-pound test GAMMA EDGE leader tied to 10 pound test Gamma Torque braided line. A 2/0 Mustad wide gap Mega Bite worm hook works with Mud Puppy Custom Lures DS (drop shot) worms. Feel pressure, set the hook. Remember, you're using lighter line; you don't need a giant hookset. This is a great way to catch them at Blue Plains. Probe flats near drops and points in Spoils and Smoots with split shot rigs with 3/16 ounce Water Gremlin Bullshot weights and Carolina rigs. Use a 2/0 Mustad Ultra Point Mega Bite hook with Mud Puppy Custom Lures DS (drop shot) worms.

This month use hair jigs in black/blue, green/orange and green-pumpkin/orange with plastic matching chunks. Insert a rattle. Pitch to cover, drops and flats near drops and let it sit, occasionally shaking. Really good at Blue Plains, just let current move the bait. Most bites are light pickups, watch line!

When water is a bit warmer to around 50, target shallower fish with a tight wiggle crankbait diving about 4 feet deep with 10-pound test line. Rattles are better in slightly stained water. You can also go deeper with 8-10 foot divers on 12-pound test.

Also suspending jerkbaits are very effective in clear water around 50. Fish around hard cover that is warmer with the sun on it. Baby Bass, Mat Pumpkin, Black Gold are my favorites. Use 10-pound Gamma fluorocarbon and a jerk, jerk, jerk, pause retrieve. Let it sit a while; vary cadence and length of pause. Works at Blue Plains, Four Mile Run, around Spoils and Fox Ferry. Not a lot of guys throw jerkbaits, so you'll have an edge.

When water warms above 45 degrees don't put away spinnerbaits especially on windy days! Go to the bank the wind is blowing on and toss a 3/8-ounce with a white skirt, and a gold willow/Colorado tandem. Slowly retrieve, bumping bottom. You'll catch the biggest fish of the season this way. To slow down, use a slower ratio reel with 12-pound test Gamma Fluorocarbon. A medium 7' graphite rod has give for the subtle winter bite and enough backbone to set the hook! Dress in layers; protect your eyes with Maui Jim Polarized gray lenses.
Punching mats might not be the best choice this week with cloud cover as bass won't be seeking shade as much., So, use swim jigs and chatterbaits in these areas where water is a bit clearer.