It finally feels like fall and I was in the mood to bake this weekend so I went with my go-to easy and delicious recipe for Pumpkin Dump Cake.
A dump cake is similar to a cobbler but with a cake-like topping. It is so named because it is prepared by "dumping" ingredients.
For the pumpkin dump cake, you make a pumpkin pie like layer on the bottom and top with a box of spiced cake mix dumped on top. So easy!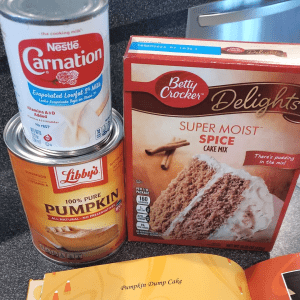 For the recipe you'll need a can of pure pumpkin (not canned pumpkin pie), evaporated milk, butter (I forgot this and had to send my in-laws to the store), sugar, a box of cake mix and a few spices.
Ingredients:
30 oz pumpkin puree canned
16 oz evaporated milk
1 teaspoon ginger
1/2 teaspoon ground cloves
1 cup sugar
4 eggs
2 teaspoons cinnamon
1 package Yellow or Spice cake mix
1 cup chopped pecans
1 stick of butter (melted)
Directions:
Preheat the oven to 350 degrees F (175 degrees C). Grease a 9×13-inch pan.
Combine pumpkin, evaporated milk, eggs, sugar and spices in a large bowl. Pour into the prepared pan. Sprinkle dry cake mix evenly over pumpkin filling. Sprinkle pecans over cake mix. Drizzle melted butter over the top.
Bake in the preheated oven for one hour. Allow to cool.
That's it! Top it with cool whip just like you would a pumpkin pie!
Delicious.
More Posts for Show:
Stephanie Taylor